The Tsubaki Tower Invites Residents To Enjoy A Festive And Relaxed Christmas in Tumon - News Release
The Tsubaki Tower Invites Residents To Enjoy A Festive And Relaxed Christmas in Tumon - News Release
December 19, 2022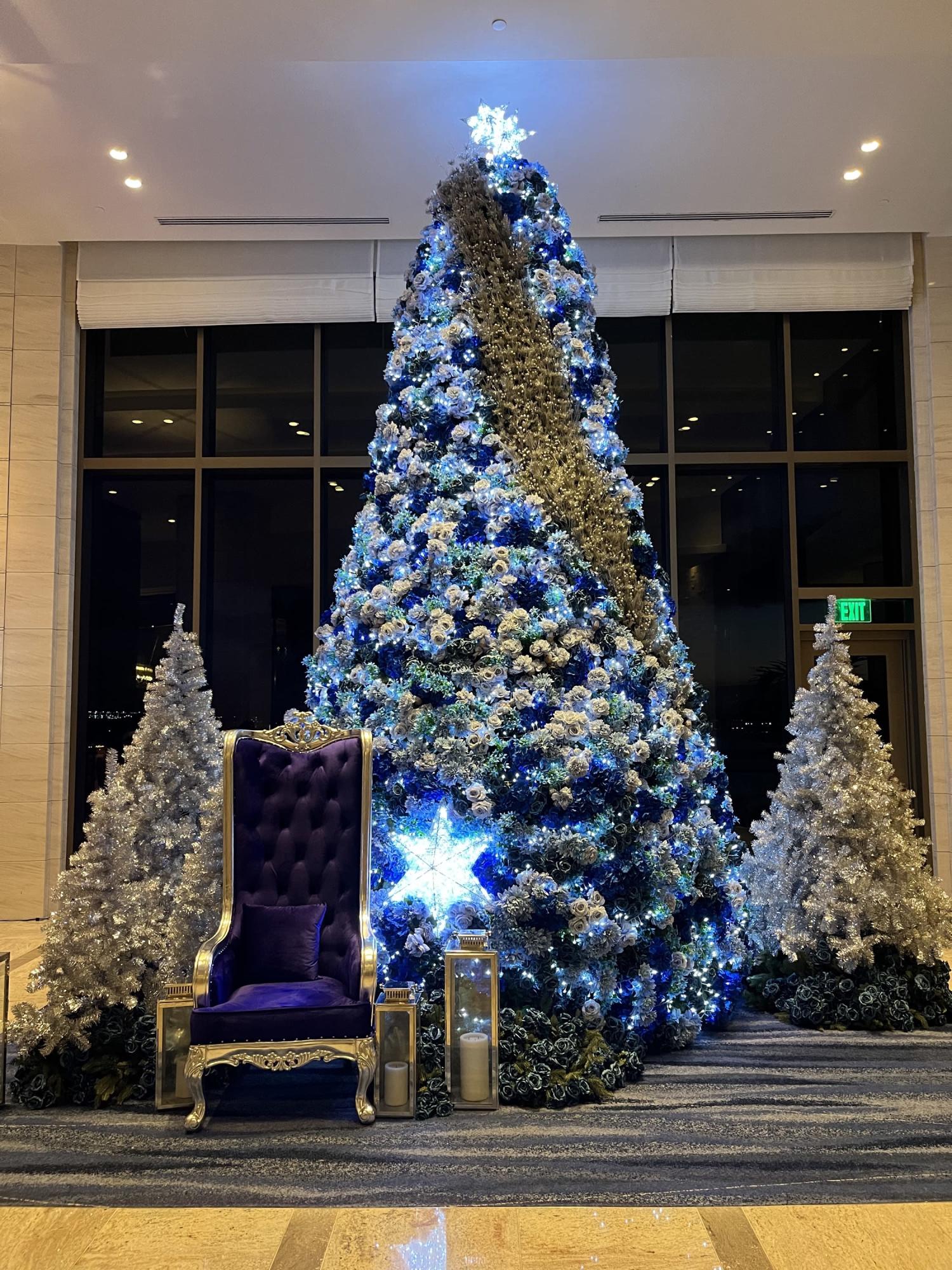 The Tsubaki Tower invites residents to enjoy a festive and relaxed Christmas in Tumon
(Tumon, Guam – Dec. 16, 2022) The Tsubaki Tower welcomes Guam residents to enjoy a relaxing Christmas season in Tumon. The Tsubaki Tower is dressed up for the holidays and invites residents to book their holiday staycation and Christmas dinners on Dec. 24 and 25, enjoy a glass of wine with a view at La Cantina, and indulge in holiday goodies from the Hinekka Deli.
Christmas Dinner at Milano Grill and Casa Oceano
According to Joel Davis, Assistant General Manager at The Tsubaki Tower, the resort's holiday menus for Milano Grill and Casa Oceano will satisfy the palate and delight the senses.
The chefs at Milano Grill present a special Christmas multi-course menu with premium wine pairings on Dec. 24 and 25 for $250 per adult plus a 10% service charge.
AGM Davis said, "We've designed the menus to offer dishes and wines that you have not yet tried at The Tsubaki Tower. The holidays are perfect for indulging in delectable dishes and enjoying that unforgettable glass of wine. It's a time to relax and celebrate, and we're ready to deliver a wonderful Christmas experience in a festive and cozy atmosphere."
The culinary team at Casa Oceano is offering 10 distinct live stations. The Carving and Hot Food Stations will serve Bone-in Ribeye, Cowboy Steaks, Bone-in Kalbi, and Pork Ribs. The Hot Food Station highlights include Garlic Butter Lobster Tails, Grilled Wagyu Steak, Marinated Lamb Racks, and Jumbo Prawns. The beverage menu highlights a variety of premium free-flowing wines, sparkling wines, beers, and whiskey, vodka, and rum beverages in addition to soft drinks, coffee, and tea.
The cost per person at Casa Oceano for dinner on Dec. 24 and lunch and dinner on Dec. 25 is $125 for adults and $75 for children 6-11 years old. A 10% service charge will be added. The full menu can be found on The Tsubaki Tower's Facebook and Instagram pages (@thetsubakitower). Reservations can be made by phone at 671-969-5200.
La Cantina
La Cantina, the resort's wine bar with an unforgettable island view from the 27th floor, offers inventive cocktails, premium spirits, beers, and live music. La Cantina is open on Christmas Eve from 5:00 – 10:00 p.m.
Hinekka Deli
Located at the lobby level, the Hinekka Deli will delight children of all ages with its holiday pastries, cakes, and desserts and expansive coffee and tea menus. Guests can enjoy their goodies in the lobby and take photos in front of the resort's unique floral tree. Hinekka Deli is open 24 hours.
Holiday Staycation Package
December staycation packages for Dec. 24 and 25 are now available for booking. The Tsubaki Tower announced that it is offering room packages for two that include a meal for two at Casa Ocean for Christmas Eve Dinner, Christmas Lunch, or Christmas Dinner.
Camellia Room Package for Two ($550 + 11% tax)

Camellia Club Room Package for Two ($680 + 11% tax). This Club Room package also includes Club Lounge benefits. Rooms are limited.
Reservations
PHR member benefits at all food and beverage outlets are welcome. The Tsubaki Tower team is ready to receive reservations for all restaurants and Holiday Staycation packages. Reservations can be made by calling 671-969-5200.
###
The Tsubaki Journey
The Tsubaki Tower is Guam's newest luxury resort experience. The Tsubaki Tower's mission is to be an authentic ambassador of Guam's culture, natural beauty, and unique history. Located along the shores of stunning Gun Beach, the 27-story resort will offer guests panoramic views of Guam's famous sunsets and the warm blues of the Pacific Ocean. The resort is nestled in the northern part of Tumon Bay and features 340 breathtaking oceanfront rooms and suites, all within walking distance of Guam's most beautiful white-sand beaches and a world-class marine preserve. The resort features two types of dining, three types of bars, a lobby lounge, deli, club lounge, swimming pools, garden plaza, multifunction room, and a chapel in the sky. For further information about The Tsubaki Tower visit tsubakitower.premierhotel-group.com/guam/ or engage with them on Instagram and Facebook (@thetsubakitower).
About Premier Hotel Group
Premier Hotel Group (PHG) has been managing hotels for more than 15 years. PHG is a member of Ken Corporation Group, a pioneer in the high-end real estate rental market in metropolitan areas. Currently, PHG owns and operates a total of 32 hotels – 23 properties throughout major cities in Japan, such as Tokyo, Osaka, and Okinawa, and nine hotels in Guam, Saipan, and the U.S. in collaboration with several international hotel chains. For more information about Premier Hotel Group, visit premierhotel-group.com/eng/.
Media contact:
Ruder Integrated Marketing Strategies | pr@rimsguam.com | 671-635-1126